28/12/2021
The Special Exhibition for the 800th Anniversary of the Advent of Nichiren Daishonin
"The Special Exhibition for the 800th Anniversary of the Advent of Nichiren Daishonin" in New York, which had been postponed, will be held in the following schedule:
Please note that the number of participants may be limited depending on the spread of the COVID-19 in the area.
We would like to ask for your understanding and cooperation in this matter.


 From February 5th to 16th, 2022
 At Myosetsuji Temple
 42-32 Parsons Blvd, Flushing,
 New York 11355 U.S.A.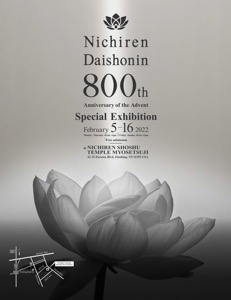 A flyer of this exhibition (English only) PDF 1.5MB